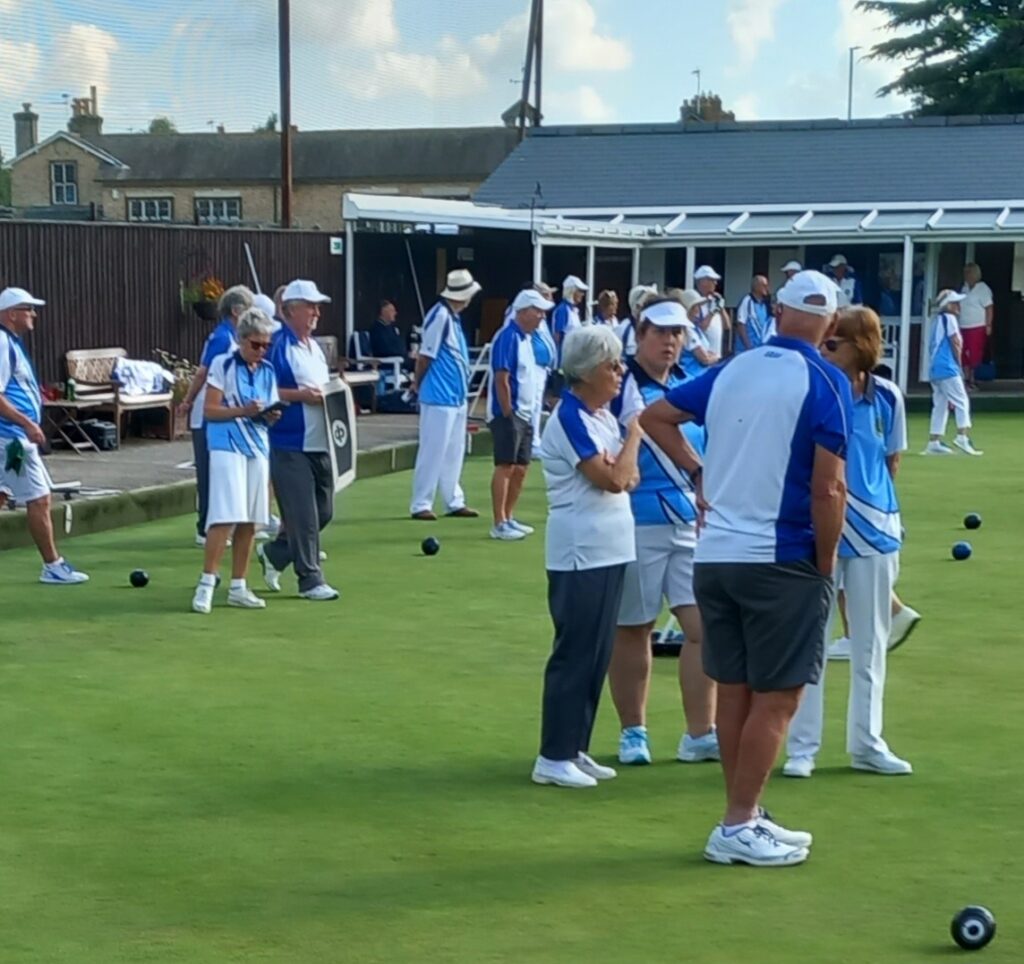 Well, an excellent start to the day with lovely weather and everyone on time for the coach, although John & Pat were fined for being the last ones there! In fact, we were so early that we could have got on the 9am ferry if there had been room. The noisy crowd (I will let you guess who) took over the back seats and there was lots of laughter from them. A visit to the back from Carol during the journey whipped them up into more of a frenzy too! Added to this were the corny jokes from our driver, Andrew, who caused lots of groans. There were claims that he had been given the 'Graham Thorne Book of Jokes' before we started!

We went directly to our first game against Blandford BC as we didn't have time to go to the hotel first but Andrew dropped us off, then took the coach to the hotel so that our bags could be taken up to our rooms for us then came back to pick us up afterwards, which was very good of him.

Our hosts were very welcoming and laid on an excellent buffet for us before the game. There was so much food that we couldn't eat it all, although some (nameless) people did their best by having four desserts. We also helped their bar profits but only to be sociable! Chris & I were a bit worried that Jackie & Sue spent most of the afternoon looking in the shops in the nearby town, and they just happened to fall into the Crown Hotel for lunch and wine. There are rumours that their walk back took much longer than going as it was a winding-walk back.

The day was glorious sunshine, so we only played 18 ends. It was fairly close all the way through on most rinks, with each team desperate not to have Eeyore at the end of their rink for losing by the most. Netty was quite worried on Rink 1 because Eeyore was with them for a long while until she and the others turned into 'superteam' and passed Eeyore onto Rog Payne's rink, which stayed there until the end. Fred Sly's rink, with Graham, Pie and the excellent Dru Dennis, claimed the best rink prize. However, there were some incidents – wrong bias by Barry Windham and Paul Allo; Pat Abrook bowling with Mick Scott's bowl; Jenny Ward trying to bowl out of turn – how on earth did we win 120 – 96?!

So, back to the hotel we went with many tired people after this morning's early start and a game played in very hot weather. I received many positive comments about our excellent rooms and the evening meal was delicious. This was followed by Fred, who was in fine fettle (get it – fine?!) making people pay up for their misdemeanours during the day. Barry seemed to come out on top, even beating Graham in the number of fines he got. This was added to the £22 profit made on the sweepstake to guess how many shots we would win or lose by. The winner was Mave Payne who guessed correctly at 24.

So, another day beckons tomorrow, playing against our old friends at Greenhills BC. Mave is going along to check on how many pints of Guinness are consumed by Rog though!